Closing Calendar Viewer for SoftPro Jet version
ProCal is a unique method of deriving an on-screen closing calendar without manual entry. It dips into the SoftPro ODBC database and extracts valuable information about your closings.
<![if !vml]>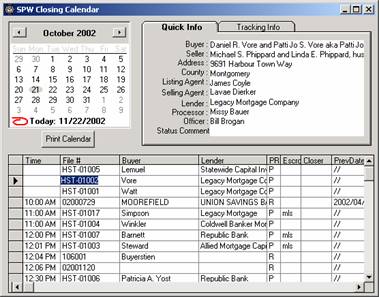 <![endif]>

The main grid shows by Date selected, the Closing Time, File Number, Buyer, Lender, Transaction Type, Escrower, Closer and previously scheduled date.
The grid sorts unscheduled closings at the top then orders the rest by closing time.
The Quick Info Tab displays more in depth information
<![if !vml]>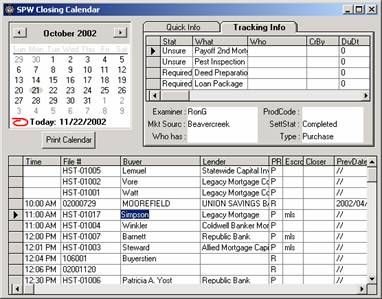 <![endif]>
The Tracking Info Tab displays up to date information on your Track items, along with a few other Settlement related items. At a glance you will know what needs to be completed to finish the deal. If an item is complete it does not show in this grid.
For more information contact:
Dan Van Fleet
VF Information LLC
4718 W. National Road
Springfield, OH 45504
Send Email
Phone: 937-424-5734